Effective Sump Pump Systems in Cincinnati, OH
Sump Pump systems in cincinnati
The Most Advanced Sump Pump Systems in Cincinnati, OH
The Sump Pump Liner
The sump pump liner, or sump pump basin, is where all the ground water is collected. It also houses the sump pump. For that reason, it should be big enough to handle any amount of groundwater, especially during large storms, and allow the pump to operate at full capacity. At Sump Pump Geeks, powered by Healthy Basement Concepts, we recommend our GrateSump™ Sump Pump Liner. It works with our FastSump™ Sump Pump. Our GrateSump™ liner has large, punched holes that allow groundwater to easily enter and has a built-in pump stand which keeps dirt away from the sump pump impeller.
The FastSump™ Sump Pump
The FastSump™ Sump Pump was built specifically for Healthy Basement Concepts according to our specs and tested by our service department for over 3 years before it was launched to the public. FastSump™ Pump is a 1/3HP pump that utilizes a highly efficient motor. It uses less amps, which saves on energy costs and allows it to run cooler, increasing the life of the pump. We always recommend adding battery backup protection to our FastSump™ by upgrading to the GrateSump™
Battery Backup Sump Pump Systems in Cincinnati, OH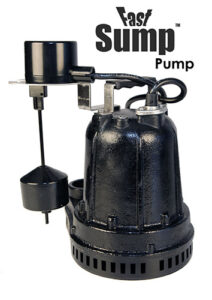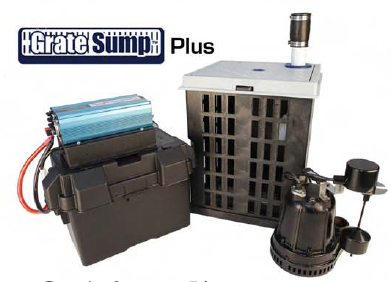 Keep your basement dry during power outages with our battery backup sump pump systems. Get peace of mind when you need it most.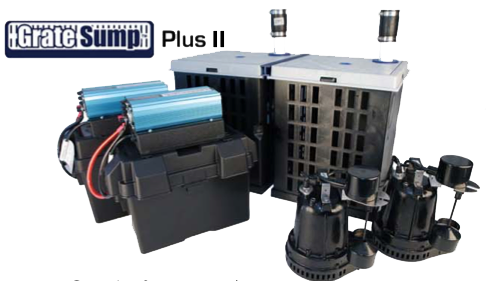 The same power of the GrateSump Plus, times two! Double protection for your basement or crawl space.
Choose Healthy Basement Concepts

For Effective Sump Pump Systems in Cincinnati
Healthy Basement Concepts is a member of the Basement Health Association and our entire staff is certified to meet the highest standards. We provide premier service to all of our customers. Call us today from your home in the greater Cincinnati, OH area at
513-504-5985
for a free inspection and we'll get started immediately!
steven wolfenberger
May 2, 2023
Jason called the same day that I requested info. They were able to come over a few days later for an inspection and estimate. Jason explained what was causing the issues with our basement and then showed us the best options to fix the problem. There was no pressure to hire them and he didn't try to upsell us anything we didn't need. Jason and his team were able to come the following week and fix our basement. It took them a little less than 2 days to complete the job. Jason kept us updated during the whole process. We couldn't be happier with the results and would highly recommend Jason and Healthy Basement Concepts.
Joseph Grothe
March 28, 2023
healthy basements just water sealed my basement. They did a great job and where very fast. They finished the job in two days. Healthy Basements Concepts is great value. highly recommend.
Paul D Hinds
March 20, 2023
Stop. Read this review. After having six companies come bid a project with me, and being told by each company that I needed to do something else to fix the issue, there were only two companies that came out to quote me that didn't hesitate to roll up their sleeves and start trying to identify the root cause. Some of the quotes were upwards of $50k (I'm looking at you, EverDry), and others just quoted me for what I said I "thought" I needed. The moral of the story is, what I thought I needed, Jason found out was only part of the case and showed me why through a series of pictures he took. (Oh, and if you're curious, he was less than 1/3 of the huge quote. I told him it was still too expensive, and he told me exactly what I needed done immediately, and what could wait.) I mean, cmon, HBC sent me a thank you card THE NEXT DAY after completing the work. They thanked ME for the opportunity to solve my problem. There are companies that might quote less, but for my money, Jason Fry is a man of his word, and I trust his word completely.
Larry Dawes
February 21, 2023
Had water coming in basement in one area and they came out and looked at the area where the water was coming in and showed me where it was and told me it was something they did not fix but told me where to buy the water stopper and I could do it myself. I was impressed by his honestly and professional advice. If anyone is looking for water leak companies I would highly recommend giving them a call.
Fred Cook
January 31, 2023
I don't typically write reviews, but these guys really deserve it. Responsive, prompt, knowledgeable, detailed... they did a great job for a fair price and we couldn't be more pleased. The addition of a supplemental beam has improved the feel of the floor and has insured no issues with the new kitchen island.
Kristina Ligons
November 20, 2022
We woke up Labor Day Monday to wet carpet in our basement after a very rainy weekend. Even on the holiday, Jason answered the phone and helped us figure out next steps. He came and looked at the situation the following Friday and gave us quotes and a test to perform to figure out exactly where the water was coming from. We ended up having a crack in the basement wall. In that time we also had a death in the family so we had to put everything on the back burner. Jason was very understanding and helped us pick right back up when we were ready to move forward over a month later. His crew came to our house in Fairfield and were incredibly professional. They kept the area they were working in very clean and put down tarps to keep the rest of our house clean too. I would highly recommend Healthy Basement Concepts!
Adam Brandner
November 15, 2022
I decided to encapsulate two crawlspaces at my home because the rooms above them were very cold in the winter. Additional annoyances were that both crawlspaces were dark, dirty areas that weren't usable for storage, and I worried about them harboring pests. It was more expensive they I'd imagined, but you really get what you pay for! Both spaces are now clean and bright, which has reduced clutter in my basement because we can store all of our seasonal items in the crawlspaces. The temperature issue was addressed effectively as well; both rooms above the crawlspaces are now pleasant in the winter. What I wasn't prepared for was how much of a difference it made in the summer. My sunroom went from being pretty hot every afternoon to feeling just a few degrees warmer than the main house. I didn't realize how much impact that sealing the exterior vents in the crawlspace below it would have during the summer months. Jason's team was hardworking, professional, and a joy to work with. I'd highly recommend them for this type of project.
leigh clark
October 16, 2022
Jason made clear about what needed to be done to clean and repair my crawl space properly. Did the job in a timely manner and the area was cleaner and healthier when the job was finished. Great workmanship reasonably priced. I am very happy with their work. Highly recommend Healthy Basement Concepts!